Apex EDI provides all the tools and services you need to make electronic claims processing easy, practical, and inexpensive. This includes:
A complete electronic claims processing system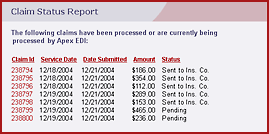 Apex gives you access to more than 1,200 insurance companies so you can process more of your claims electronically. You pay one low monthly fee to process an unlimited number of electronic claims. The Apex system works flawlessly with virtually any practice management software and turns the process of submitting electronic claims into a simple 2-minute operation. This easy, flexible approach to electronic claims processing can save your practice thousands of dollars and hundreds of hours every year—without forcing you to change the way you manage your practice.
Online claims tracking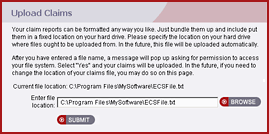 A secure, easy-to-use web interface makes it easy to find and view the latest information about the status of all your claims. With Apex, the information you need is never more than a few mouse clicks away.
Online eligibility
Our online eligibility product helps your practice save time and money by helping you determine what will be covered by the insurance payer before you see the patient.   Using our online eligibility tool will help reduce the time it takes to verify benefits, reduce the number of rejected claims and denials, and improve cash flow by determining and collecting the patient's portion at the time of service.
Statements
The Apex system makes it easy to generate and print clear, professional statements complete with postal bar coded envelopes.   With just a few simple steps statements can be generated every day so you can receive patient payments more quickly. In addition, once all of the hidden costs of printing and mailing statements in house are identified (paper, toner, envelopes, stamps, and the time spent printing, folding, stuffing, and mailing), it's easy to see that you will recognize a significant cost savings in sending statements electronically.   Click here to see a sample statement.