Associations Partner with Apex EDI
Apex EDI is ready to work with you to offer an easier and less expensive electronic claims processing solution to your members.   With our variety of service offerings and our excellent customer service, our partnership with you means added value to your membership.   Here are some reasons it makes sense to partner with Apex EDI:
Add value to your membership  by providing access to more health care payers, lowering the cost of processing electronic claims and offering more tools for processing, tracking, and managing electronic claims
Offer your members a variety of additional services such as electronic patient statements, patient eligibility, and paper claims processing
Improve your bottom line with a generous ongoing rebate program
Our competent and friendly support staff



Apex EDI is focused on providing quality services and exceptional support to our clients and partners. We value our relationship with our partners and work together to make sure our mutual clients are not only satisfied but also receiving the best service possible. To show our appreciation to our partners we offer:
A generous and customizable revenue sharing program for each service utilized by your clients
Fast, friendly, and free customer support to help solve client issues or concerns
Automatic compliance updates so that your clients never have to worry about expensive or time-consuming upgrades
Free training on all services offered by Apex EDI


Our promise to you is that Apex EDI will always offer state of the art services and support so that you and your clients are always satisfied.   Becoming an Apex Preferred Solutions Partner is easy and will provide you with a growing stream of monthly income based on the level of activity for each of your clients. Our system is compatible with virtually any practice management software, and our knowledgeable support staff is always standing by to answer questions and work through problems. For more information, please contact us at 800-840-9152.
Request a Partnership Demo
Want to know how your company can add electronic claims billing functionality to your product suite in as little as two weeks? We'll show you how. Please complete the form below to schedule a demo.
Pricing
Apex EDI offers your members the highest possible value with one low monthly fee for processing an unlimited number of electronic claims. We invite you to compare our pricing with other electronic claims processing options—then choose the solution that makes the most sense for your members:
Pay a low one-time setup fee
Process an unlimited number of electronic claims for one flat rate
Process paper claims and generate patient statements for less than doing it in-house
Receive all the ongoing technical support you need free of charge
For smaller practices that don't submit a large volume of claims we also offer a lower block rate and a per claim rate.   Your members can  contact our sales team at 800.840.9152 for a free e-claims analysis to determine the best option for their practice.
Services
Apex EDI provides all the tools and services you need to make electronic claims processing easy, practical, and inexpensive. This includes:
A complete electronic claims processing system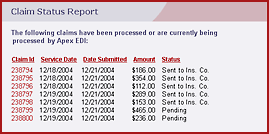 Apex gives you access to more than 1,200 insurance companies so providers can process more claims electronically. Your members pay one low monthly fee to process an unlimited number of electronic claims. The Apex system works flawlessly with virtually any practice management software and turns the process of submitting electronic claims into a simple 2-minute operation. This easy, flexible approach to electronic claims processing can save a practice thousands of dollars and hundreds of hours every year—without changing the management of the practice.
Online claims tracking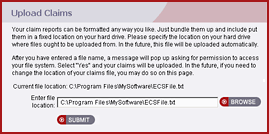 A secure, easy-to-use web interface makes it easy to find and view the latest information about the status of all claims. With Apex, the information you need is never more than a few mouse clicks away.
Online eligibility
Our online eligibility product helps your practice save time and money by helping you determine what will be covered by the insurance payer before you see the patient.   Using our online eligibility tool will help reduce the time it takes to verify benefits, reduce the number of rejected claims and denials, and improve cash flow by determining and collecting the patient's portion at the time of service.
Electronic statements
The Apex system makes it easy to generate and print clear, professional statements complete with postal bar coded envelopes.   With just a few simple steps statements can be generated every day so providers can receive patient payments more quickly. In addition, once all of the hidden costs of printing and mailing statements in house are identified (paper, toner, envelopes, stamps, and the time spent printing, folding, stuffing, and mailing), it's easy to see that offices will recognize a significant cost savings in sending statements electronically.   Click here to see a sample statement.
Automated Electronic Payment Processing
Apex EDI offers a convenient electronic payment service that makes it easier and much less expensive to collect payment from patients. With this convenient solution providers can set up automatic electronic payment plans, receive online payments, and even accept check-by-phone payments. This dramatically improves collections and reduces the time spent chasing down delinquent payments. Best of all, the whole system is web-based, so offices can enjoy all the advantages of electronic payment processing from any computer with an internet browser — without investing in expensive new hardware or software.
Electronic attachments
With Apex, providers can send x-rays, notes, charts, and pictures electronically to participating insurance companies. This accelerates the claims process, saves time and money, and allows providers to receive payments more quickly.
Apex EDI has teamed up with NEA FastAttach™, the industry leader in electronic attachments. NEA FastAttach enables healthcare providers to transmit attachments that go along with electronic claims to payers via the internet. Attachments include x-rays, perio charts, intra- oral pictures, EOB's, Lab Reports, narratives, and a variety of other documents.
Paper claim processing
If your members work with insurance companies that don't accept electronic claims, Apex will print and send paper claims automatically. Simply submit all of claims at the end of each day and we'll do the rest.
Superior service and support
We realize that being endorsed by your association means you expect us to provide superior service to your membership. That's why we've developed the easiest and friendliest electronic claims processing system in the industry—backed by competent, personalized service and support you simply won't find anywhere else. Our approach is simple. If you run into problems we'll do whatever it takes to fix them—quickly, professionally, and free of charge.